The Real Is Virtual


"The Real Is Virtual" is a personal venture into the digital atmosphere. The world that can be perceived through the senses exudes an aura that is believed cannot be digitized. I try to generate visual work by playing with this idea of the undigitizable, 3D-rendered footage being the medium. Questioning where our 'real' life ends and where the virtual one starts, I have been manipulating various ways of capturing physical forms to project them into the digital realm. The project resulted in a video installation consisting of three LCD screens and one big projection of 3D animated flowers, as well as manipulated virtual textures on loop. The viewer is invited into an atmospheric space of image and sound where the borders of the object that is the screen start to get blurred.
watch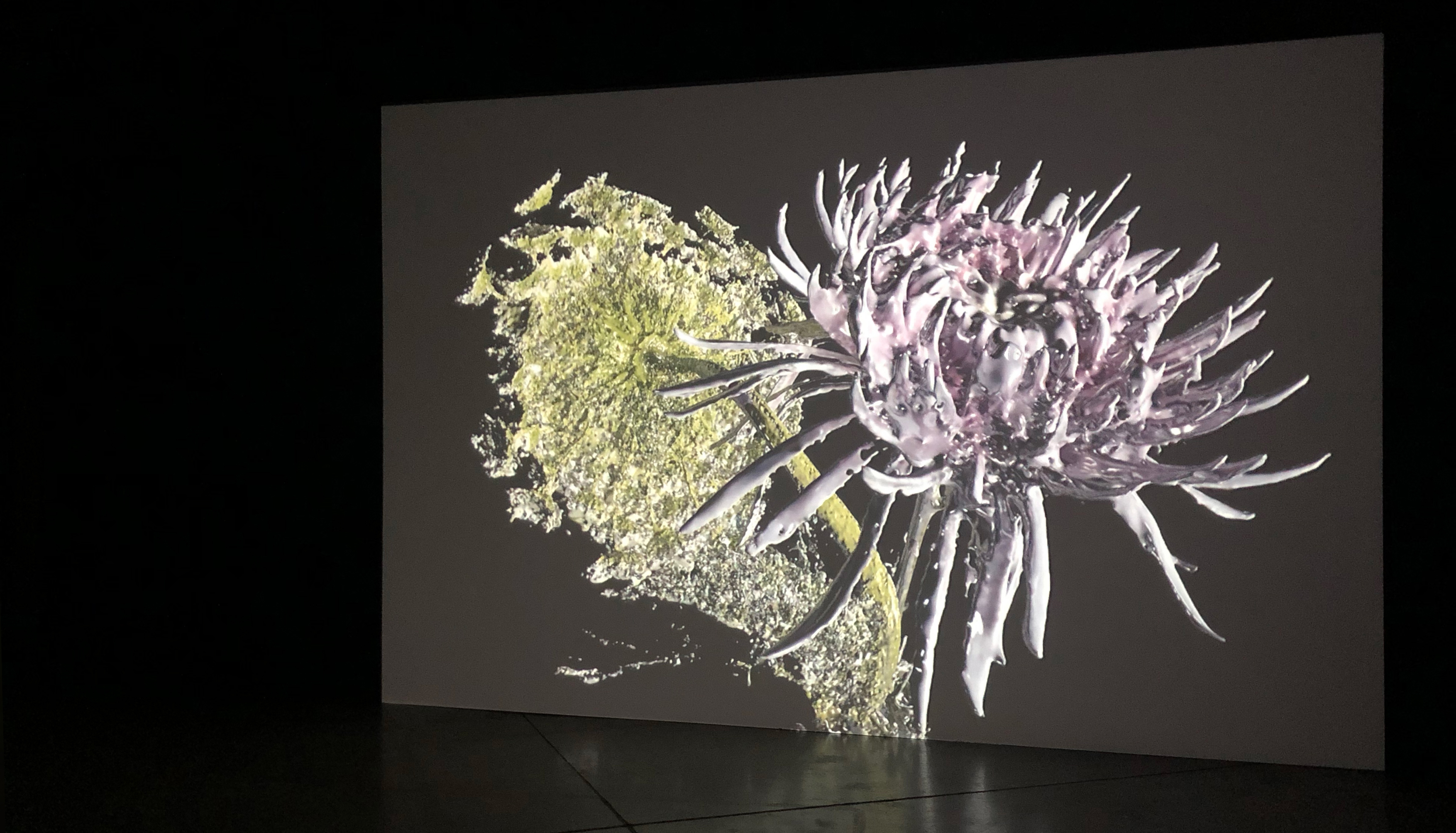 ︎︎︎ Video installation, three loops and one projection of 8min, 2021


Chroma: a book of colour

Chroma is a reproduction of the original book Chroma by Derek Jarman. It is a poetic, passionate and intensely personal exploration of colour written during the final year of Derek Jarman's life. In each chapter, a colour is used as a pathway to tell an almost autobiographical story. For the design of the reproduction the focus is laid on the chapter 'Into the blue'. Deep, infinite and melancholic blue. The blue that is receding from Jarman's own life while turning colour blind.
Being inspired by his legendary garden as well as flowers as a symbol of grief when a loved one has passed, the blue chapter has been replaced by images of scanned flowers. In turn, this chapter has been used in the video installation 'Into the Blue' that accompanies the publication. Both the publication and the video installation function as an homage to the life and death of Jarman.
︎︎︎ Publication, 125 x 195 mm, 124 pages, 2020
Into the Blue

"I place a delphinium, Blue, upon your grave." is the last sentence of the chapter 'Into the blue' from Chroma by Derek Jarman and the starting point for this video. This project later turned out to be an accumulation of perfect coincidences: blue delphinium, the garden, the symbol of the flower, grief, Jarman's film 'Blue', Chroma, the music I was listening to, … Blending together all these elements with a looping 3D rendered flower resulted in a video installation that tries to grasp this feeling of melancholy, visualizing what feeling 'blue' could look like. My blue delphinium on Jarman's grave.
watch
︎︎︎ Video installation, 73 min, 2020
This is...

A visual identity for a series of performative lectures and events on contemporary graphic design at Design Museum Ghent, commissioned by Sara De Bondt. These events accompanied the exhibition 'Off the Grid: Belgian Graphic Design from the 1960s and 70s as seen by Sara De Bondt'. 24.10.2019 – 16.02.2020
The identity is based on the most simple and obvious way of announcing someone at a show, on TV, … by just saying 'this is'. Posters were designed to catch the eye with this simple gesture. later on, for every event there were stickers made by some fellow students that got piled up on the posters to announce every event, lecture, and so on. The commission also included flyers, web design and scenography.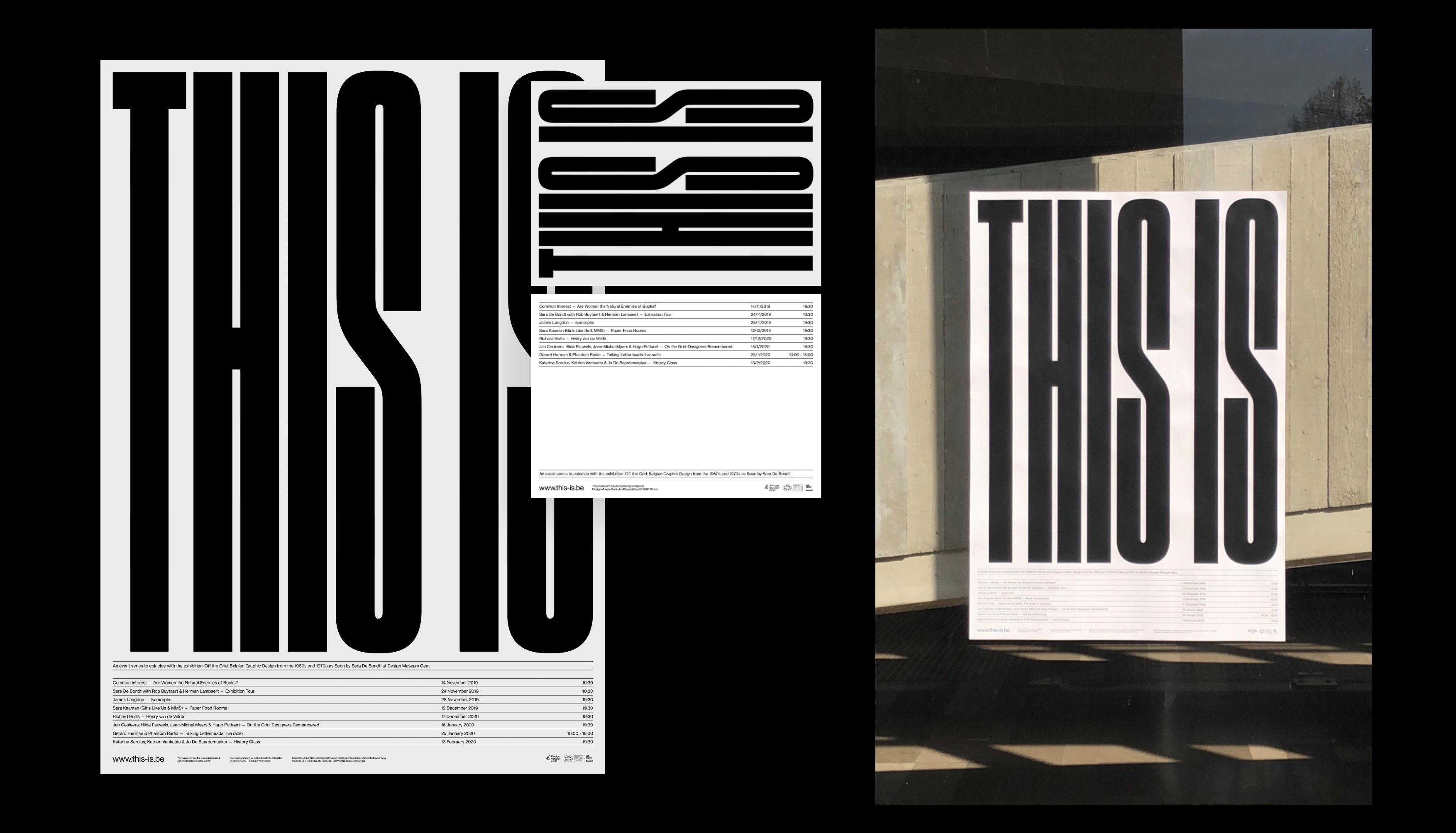 ︎︎︎ Visual identity, web design, 2019
The tiger's mind & Notes towards a mental breakdown

Both the 'The Tiger's Mind' posters as well as the 'Notes towards a mental breakdown' poster play with the same idea of transforming a full piece of text into a poster. This resulted in almost literally puzzle-like results, using the crossword puzzle and dictionary lay-outs as archetypical structures to transform text into an 'encrypted' poster.
︎︎︎ Posters, 841 x 594 mm, 2019
Kylie Display

Starting from a briefing to design a modular typeface based on a character, Kylie Display was inspired by the song GBI by Kylie Minogue ft. Towa Tei. In this song, she sings about being a typeface which I then visualized as a display font using a grid of slanted ellipses.
listen
︎︎︎ Type design, 2019


Stay home

Mimicking the white towels and blankets people hung out of their windows during the first Covid lockdown, this flag is a small custom type project made to kill time in quarantine.
︎︎︎ Type design, flag, 1530 x 1030 mm, 2020
What's Arabic for "I love you"?

A typographic experiment trying to connect the Western and Arabic written language. Both alphabets have been matched by sound while new Western letters are made for Arabic sounds that are unfamiliar for Western languages. This project builds a metaphorical bridge between two cultures that sometimes have trouble communicating with each other, with the alphabet as a symbol of mutual understanding.
︎︎︎ Publication, 380 x 289 mm, 32 pages, 2019
Jordy is a graphic designer based in Antwerp with an Academic Master's degree at the graphic design department of KASK School of Arts Ghent, BE (2021), a Bachelor's degree in graphic design at KASK School of Arts Ghent, BE (2020) as well as a Bachelor's degree in architecture at LUCA School of Arts Brussels, BE (2017). His work mainly revolves around typography and visual communication but has recently started to venture into the world of 3D rendering, video and motion graphics.